Cheetah Express Inc. has been incorporated since 1987 as an U.S.A. based company handling import/export business both air and ocean as well as brokerage / door to door delivery service. Currently, we are I.A.T.A. agent, N.V.O.C.C. as well as C-TPAT member providing worldwide freight forwarding service both air and sea. Most of our staffs got experience in the forwarding field for more than 10 years to take good care of our customers and their shipments.
We are located at a 40,000 sq/ft company owned building near Chicago O'hare International Airport, equipped with 24 hour security monitoring systems, for which we can offer crating, distribution, logistics, storage service etc. to our customers in a secure and professional manner.
We control the shipping, receiving, container loading, etc. by our own experienced crews in our facility to prevent any exception, discrepancy, or damage to the shipments in/out of our building. Besides, our staffs with international forwarding and carrier knowledge/background, can take care the shipments efficiently, smoothly, and professionally all the time.
Cheetah Express is diversified to different divisions to handle shipments of different product or territory. We take care small shipment of one pound book upto huge shipment of 35,000 lbs B787 aircraft engine, we handle one box of consumer item upto year around project cargo movement.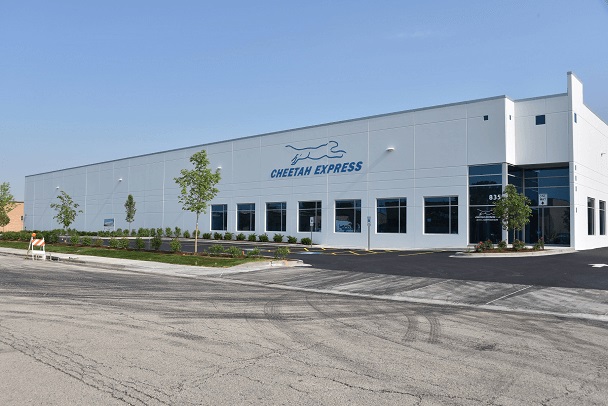 Market Pioneer Int'l is one of Cheetah's divisions to provide services for aircraft parts to/from Boeing, GE, P&W, Honeywell, etc. For all the airlines (Air China, China Eastern, China Southern, Hainan Airlines, and all other domestics airlines) including A.O.G. (aircraft or ground) hot shot shipments. Besides, Cheetah is handling all kinds of cargo (general cargo, hazardous materials, oversized cargo, etc.) to/from Asia via both air and ocean.
AWARDS
We have been successfully providing good services to our customers with different type of product, and awarded by various airlines such as China Airlines, Eva Airways, Korean Airlines, UPS Airlines, etc. Particularly, we were awarded by China Airlines 2 years in a roll for Millions Dollars Sales Award which is presented to top 20 forwarding agent in north America (including U.S.A. and Canada) every year.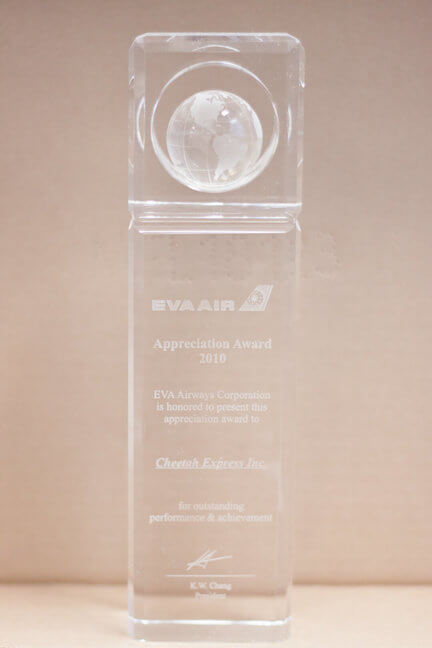 Appreciation Award 2010
EVA Airways
---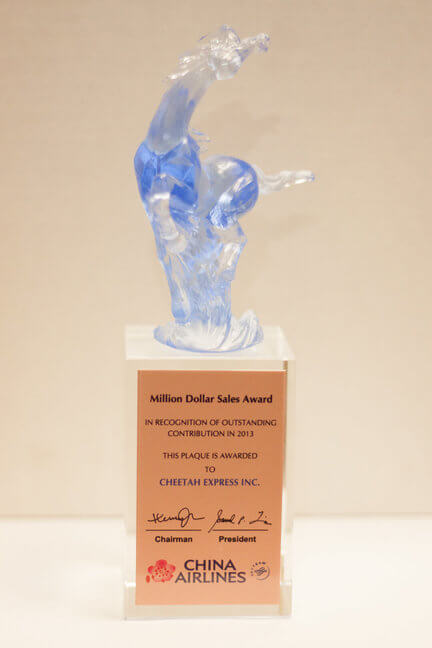 Million Dollar Sales Award 2013
China Airlines
---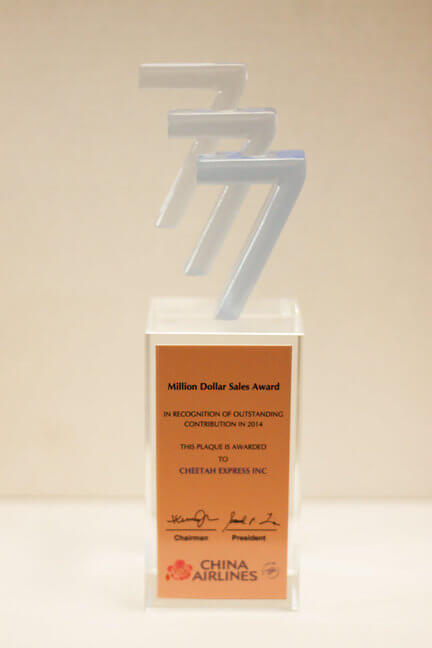 Million Dollar Sales Award 2014
China Airlines
---